By Chris
Prepare to hear a lot of gloating about a young stud on the blueline tonight.
And no, I'm not talking about Tyler Myers.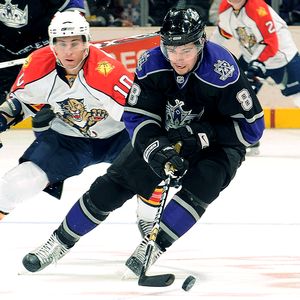 Since we'll be watching the Los Angeles Kings TV feed tonight, the name you'll hear a lot…and I mean a lot…will be that of Drew Doughty. I've seen quite a few Kings games this year — mainly because they're a very fun team to watch — and Doughty is worthy of much of the hype.
Every Kings broadcast I've seen this year, whether it be the home or away feed, talks up the youngest Canadian Olympian. So I'm warning you now, it's probably going to happen a lot tonight, too.
And I'm sure the inevitable comparisons to Myers will creep in as well (as they should). They were both drafted last year but Doughty, being the more-ready NHL prospect last June, was taken second overall while Myers fell to the Sabres at 11. In such a short span of time, it looks like both will be anchors on their respective teams for a long time to come.
The Sabres take on Hollywood at 10:30 p.m. tonight. I don't think Ryan Miller is scheduled to make any commercials on this trip.