By Chris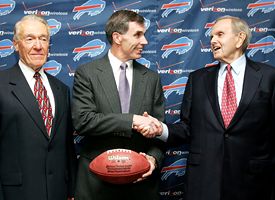 So Dick Jauron is finally out.
Bills fans can celebrate that. The castration has been a long time coming.
Let's face it, this season is lost. Firing Jauron gives the franchise the opportunity to start over yet again.
Perry Fewell will step in as interim head coach. If Ralph Wilson doesn't want to pony up the big bucks for an experienced coach, don't be shocked if Fewell keeps the job. The next seven games are going to be his audition. It probably wouldn't be the best move, but don't put it past them.
A new head coach is only the first step. The team needs a general manager focused on putting a good football team on the field. COO Russ Brandon does a hell of a job selling tickets, but come on. The team's gotten worse under his watch.
And that general manager needs the keys to the car, no questions asked. Wilson's been hesitant to give up too much power since he got burned by Tom Donahoe (he brought in Marv Levy, a man he trusts, and then when he left, split up responsibilities). That has to change.
What we're really looking for is a GM. Fans are sick of rookie head coaches so why not look for a guy who can fill both roles?
On the A-List of guys currently sitting at home, you're looking at Super Bowl champions enjoying cushy studio jobs. I doubt Bill Cowher or Tony Dungy will want to come out of retirement for the mess that is the Bills. Hiring either of them will break the bank, another thing Wilson isn't accustomed to doing (especially if he's still paying for Jauron).
On the next tier are the Mikes: Holmgren and Shanahan. Neither is in football right now. They've both won Super Bowls as well and I like either of them as legitimate candidates for the gig.
Holmgren left Seattle on his own terms but Shanahan was fired in Denver. He might have an itch to get back sooner rather than later. They may both demand a pretty penny but not as much as Cowher or Dungy.
Want to get into the playoffs? Then Marty Schottenheimer might be your man. However, he doesn't have GM experience (then again, neither do Cowher, Dungy or Shanahan) so he might not be the best bet.
Forget Brian Billick and Jon Gruden. Billick is not a great coach and Gruden just signed an extension with ESPN (and he's actually pretty good on Monday Night Football).
Now if the Bills do wait until January to fill any of these positions, there's always a chance they could interview with coaches who just got fired. Eric Mangini, John Fox, Jim Zorn and Lovie Smith could all be possibilities although the only one I might be interested in is Fox.
And those are just the obvious choices off the top of my head.
So a general manager, a new coach. Besides finding a quarterback, what else is it going to take to get fans excited for next season?
And is it safe to say that Jauron has gotten extremely old-looking in the last four years?
Guess the job will do that to you.