By Chris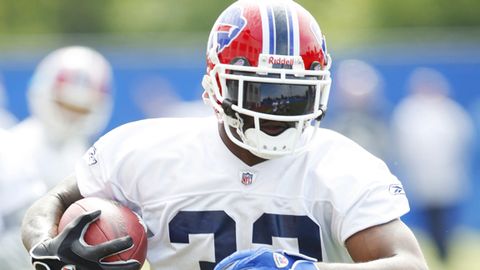 Today the Buffalo Bills cut third-string running back Dominic Rhodes to free up some cap space.
From the Buffalo News:
But money, not performance, may have been the biggest factor in Rhodes' release. The move saves the Bills more than $2 million.

He was due to make base salaries of $750,000 this year and $1.25 million in 2010 as part of a two-year contract, which included a $200,000 signing bonus.

The Bills also avoid paying Rhodes a $150,000 roster bonus, which he would have gotten had he made the team.
So if the Bills didn't want to pay Rhodes that kind of money, why sign him to that contract in the first place?
Rhodes barely played in the preseason (his highlight was really muffing a punt in the Bears game) and perhaps Xavier Omon's stellar campaign made it easier for the Bills to part ways.
Omon should see a lot more action the first three weeks of the season as Fred Jackson's backup as Marshawn Lynch serves his three-game suspension.
The Bills' final 53-man roster must be submitted to the league by 6 p.m. tonight.
Yesterday, Ko Simpson was traded to the Detroit for an undisclosed 2010 draft pick. It's a miracle the Bills received anything for the disgruntled safety who was infamously arrested early in the off-season, apparently because the police didn't know who he was and how much he was apparently worth.
UPDATE: The Buffalo Bills announced these cuts to get their roster down to 53 players.
QB Matt Baker
LB Alvin Bowen
DE Copeland Bryan
OL Kirk Chambers
TE Tyson DeVree
LB John DiGiorgio
DE Ataefiok Atukeren
G Christian Gaddis
RB Bruce Hall
DB Cary Harris
WR C.J. Hawthorne
OT Nick Hennessey
WR Felton Huggins
DT Derrick Jones
DT Corey Mace
LB Ryan Manalac
RB Dominic Rhodes
OL Brandon Rodd
TE Jonathan Stupar