By Chris
I was talking to Ryan yesterday and we couldn't believe that football season is already upon us. It's mostly because Bills training camp opened up a week early, but let's face the facts: summer is almost over.
Ralph Wilson and Bruce Smith will be enshrined on Saturday while Trent Edwards and the gang take the field against the Titans on Sunday night for the first football game of the year.
Here a few of the players we in the Roost will be keeping close tabs on.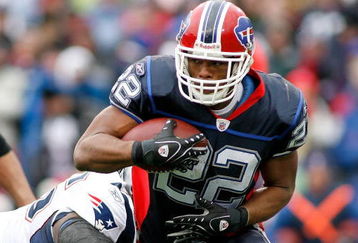 Fred Jackson.
With Lynch out of the picture for the first three games, all eyes will be on the Bills interim starter. It will be interesting to see how many reps Dick Jauron gives him, especially with Dominic Rhodes backing him up. Hopefully he'll be out there a little bit longer than the rest of the first 11.
Andy Levitre and Eric Wood.
These rookies are the future of the offensive line. Levitre is currently listed as the back up to left guard Kirk Chambers and Wood is behind Seth McKinney at the right guard spot. With that in mind, it would make sense for them to eat up a lot of minutes on Sunday. The coaching staff is going to want to see as much of them as possible if they see them as the opening day starters. Sure they'll most likely be going against second string defenses, but let's see how they handle the pressure of their first professional game.
UPDATE: News from One Bills Drive that Levitre and Wood have been named the Bills starting guards. Now we have even more reason to focus on them.
Roscoe Parrish.
He's fourth on the depth chart and the signing of T.O. has made him expendable. He's decent trade bait if he has a very good preseason so we'll be keeping tabs on how many balls are thrown his way and how Bobby April uses him on kick offs and punt returns.
Leodis McKelvin.
The other side of Roscoe Parrish coin. McKelvin is listed as the starting cornerback opposite Terrence McGee so if he gets any playing time on Sunday, it will come on special teams. If McKelvin is returning kicks, it will most likely be at the expense of Parrish.
Ashton Youboty.
Just a hunch, but he'll probably be playing a lot of downs Sunday night after the starters exit. He'll be the Bills veteran in the secondary as the later quarters roll around. He had a decent season last year and this might be the year he really makes the jump.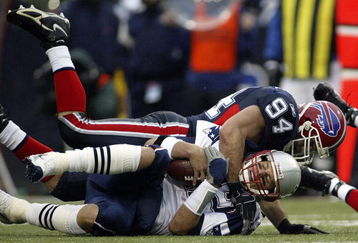 Aaron Schobel.
Many experts are toting the success of the defense to Schobel's health. Coincidence or not, the team's chances pretty much went down toilet when he injured his left foot last season and missed 11 games so, even though he won't be in long, we'll be watching to see how he fares.
And of course…
T.O.
Even though we'll be lucky to see three series out of him and Edwards, we just want to see what he does.