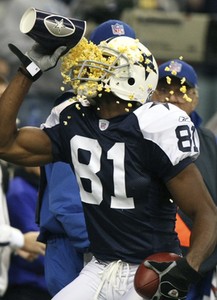 By Chris
The Bills may actually be interested in Terrell Owens. Shocked? Yeah, well so is probably every other Bills fan out there.
From ProFootballTalk.com:
The Buffalo Bills, not yet a member of the Anti-T.O. List, supposedly are interested in receiver Terrell Owens.

Per Capaccio, coach Dick Jauron initiated the process, lobbying the front office (which is now essentially run by non-football guy Russ Brandon) to consider Owens.

It's unknown whether the Bills have a realistic chance of signing Owens. Earlier this week, Stephen A. Smith of ESPN (who hosted the Terrell Owens Christmas Special) said that T.O. wants to play for a team with a quarterback who can get him the ball (there's a shock).

Smith specifically mentioned the Giants, Colts, and Patriots as preferred destinations.

In Buffalo, the quarterback is the unaccomplished Trent Edwards, whom Owens probably doesn't regard as being worthy of T.O.'s talents.

The fact that Buffalo is interested is a bit surprising. But, as a practical matter, any of the teams that reportedly were interested in receiver Laveranues Coles would potentially be interested in Owens, and the Bills reportedly were one of those teams.
If the rumor's true, credit Buffalo for at least showing interest in addressing a critical need (a wide receiver capable of taking pressure off of Lee Evans).
We're all aware of the baggage that comes with having T.O. on your team. And if it's Dick Jauron that wants to bring him in, then he's more than prepared to deal with the drama.
Signing Owens would bring a buzz back to One Bills Drive, and with the fan base's patience with the franchise reaching critical mass, a T.O. spark may not necessarily be a bad thing.
Get your popcorn ready.
UPDATE: FoxSports.com is reporting Owens is visiting One Bills Drive, as well as that the Bills are likely to offer a one year contract. If we get a text from Marv about this, it will make my day.