By Chris
If you're not headed out to pick up your authentic Thomas Vanek autographed jersey with your tickets at the HSBC Arena box office for tonight's Sabres game, you might want to head over to UB's North Campus. Alumni Arena should be bustling with activity.
Join Turner Gill and your 2008 MAC Football Champions for National Signing Day as they announce the 2009 class of incoming recruits. The event will take place in Alumni Arena on February 4th at 6:30 pm, admission is free.

Stop by the concourse for player autographs, official Bulls merchandise, $1.50 hot dogs, and get your picture taken with the MAC Championship Trophy!

For those who are unable to attend, the event will be streamed live on buffalobulls.com. For details, call 1-877-UB-THERE.
Here's a good read on the new recruits.
Who can say no to a $1.50 hot dog?
____________________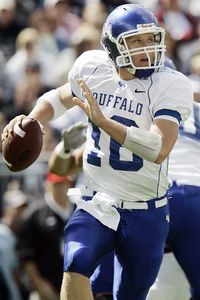 Also, quarterback Drew Willy was invited to the NFL Combine, taking place later this month in Indianapolis. His draft stock is rising. UB ran an NFL-style offense this year and Willy has proven to be an effective pocket passer as long as he keeps his nerves in check. He's one of 21 quarterbacks invited to the Combine and we wish him the best of luck.