By Jon
Meet James Hardy.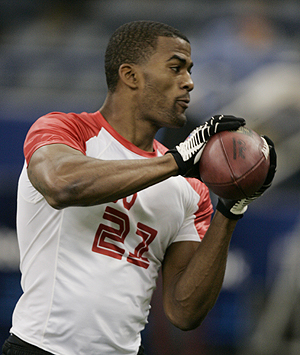 James is a big, sure-handed receiver who played his college ball at Indiana. Drafted in the second round, Mr. Hardy is supposed to be quite the compliment to Lee Evans. But you know that already, so let's move on to some fun facts!
Fun fact #1: James played college basketball at IU for two seasons, according to his Wikipedia page.
Fun fact #2: James was a Freshman All-American in 2005, a Third-team All Big 10 selection in 2005 and 2006, and a First Team All Big 10 selection in 2007.
Fun fact #3: James allegedly pulled a gun on his own father after beating the crap out of him this past weekend!
Fun fact #4: James wants everyone to know that it was just a big misunderstanding (link via WNY Water Cooler), much like many reports of assault and brandishing a weapon.
UPDATE: According to the Buffalo News and contrary to the initial report linked above, it looks like the incident was less of a "beating" and more of an "argument."
The Goose's Roost would like to welcome James Hardy to Buffalo! Thanks for being the newest weapon in our offensive assault!