by Ryan
I really wanted to talk about some actual football news today, and even mention some stats. Then I saw the picture below.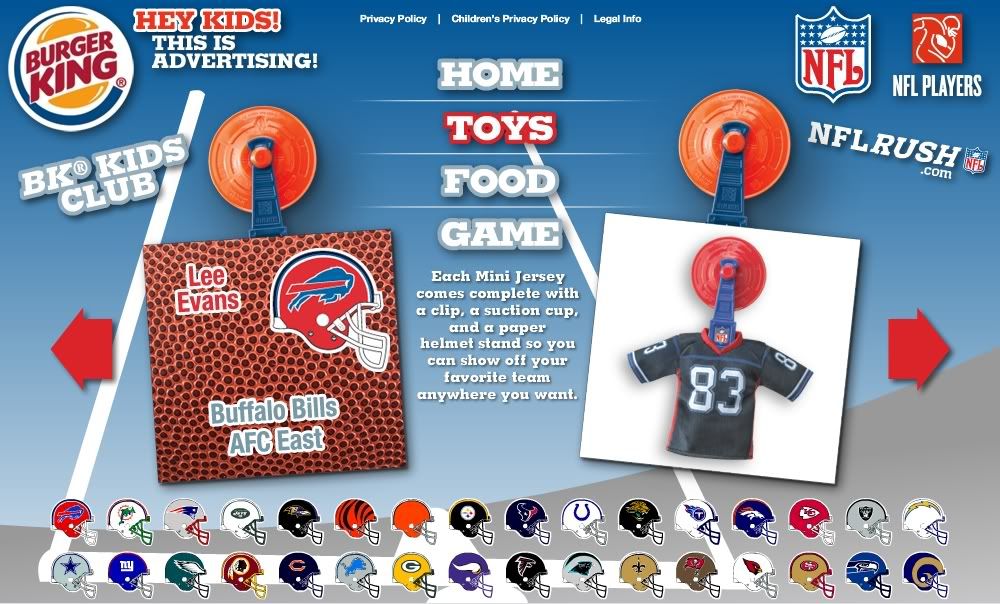 That fine screenshot was from the Burger King website. Apparently BK is giving away mini football jerseys with their kids meals. The first thing I though of was how embarrassing it will be to order a kids meal to get one of those bad boys. The second thing I thought of is how delicious that double cheeseburger will be as I make fingers stiff arm and hurtle as a mini Lee Evans. Sweet victory will be mine.
I love how BK put a giant disclaimer at the top right of the page. "HEY KIDS! THIS IS ADVERTISING!" Like they don't recognize the brainwashing that comes with commercialized toy deals. Psh.
I wish they would put that blunt honesty to use more often. "HEY KIDS! THIS IS FATTENING!" would work just fine, I think.
Burger King has always embraced its image as the place for fat people who are unashamed of their gluttony, something I give them great credit for. You wouldn't see any other fast food place patting themselves on the back for the Tripple Whopper or Quad Stacker. Only BK has the guts to pair giant portions of food and midgets together to celebrate what makes America great.
It only makes sense that Burger King is the company to scream it's Ludovico Treatment right at the faces of our youth. Not to mention the mental trauma all those impressionable girls will go through when they learn they can't fit into those mini jerseys…